Is God inviting you to help bring
freedom and healing

to those who have been impacted by abortion?

Our mission is to multiply ministry teams who bring healing and lasting freedom to abortion wounded hearts. This training seminar will equip and empower you to be a voice of compassion and truth to those who are searching for more. Whether you desire to serve on one of our retreat teams across the country or start a Deeper Still Chapter in your area, this training is for you! 
All training dates and pricing on this page are for the 2023 training weekend.
Info for the 2024 training weekend will be announced soon.
We want to give you the tools you need to be the
hands, heart, and feet of Jesus

as He turns guilt, shame, and pain into lasting freedom.

If you are an existing pregnancy center ministry, women's or men's ministry of a local church, a regional outreach for a church denomination, or an individual woman or man that would like to learn more about ministering to those wounded by abortion, we are hosting a training seminar to help you be an advocate for life, bringing restoration and hope to the broken-hearted!

When
February 16-18, 2023

Where
Knoxville, Tennessee

Cost
Single Registration TH/FRI only: $99
Single Registration w/SAT: $149
Married Couple TH/FRI only: $149
Married Couple w/SAT: $199
Our training will help you learn about:
The Abortion Wounded Heart
Key Concepts for a successful retreat
Building a High-Impact Ministry Team
Timeline, Job Descriptions, and Budget
Trying to decide?
Hear from participants of past training seminars:
"This training was a powerful time and I feel like the Lord has taken me to a deeper level with Him as a result, even while He was teaching me how to do that with others."
"I came in from working at a pregnancy crisis center with little knowledge on post abortion. This was a fantastic tool for me to understand the heart of these women and what they may have been through. I can't believe how it made me feel and the desire I now have to minister in this area!"
"Such a beautiful ministry that is devoted to the healing of wounded hearts of abortion through the love and blood of Jesus."
"I am overwhelmed by the amount and depth of healing available and poured out on those wounded by abortion. The healing is profound. The principles used and the awareness in regards to the spiritual battle are so powerful. This ministry exudes His love. Nothing is wasted. What a powerful work God is doing through Deeper Still. I am blessed to have received the training."
"The entire training seminar was beneficial. One of the things that impacted me the most was hearing from a couple of the men who have been to retreats….their testimonies were incredible!!! it was tremendous to see men, strengthened in the Lord, and yet so gentle and tender in their hearts."
"Words cannot express enough how amazing Deeper Still has impacted my life. I am excited to go through training and be a part of the team!"
"After attending my own retreat, I wanted to offer retreats in my home state. This training helped to equip me with the framework of beginning a chapter. Heaven2Earth was a powerful time of intercession! The Lord's presence united our hearts as we interceded for our nation, the abortion wounded, and their families."
"The love for the abortion wounded was so evident in this team as they explained the approach to healing the Lord has shown them. They obviously seek God's presence in all they do and I felt honored to be a part."
"This training has given me an understanding of how to minister with more love and compassion in not only this area, but other areas as well. Deeper Still is a one of a kind ministry!"
"The training gave me a clear understanding of the complex nature of even my own abortion wounded heart. Knowing there are others with wounds, I now have the knowledge to comfort and help others with many afflictions as well. It was clear that Karen and the staff and volunteers operated from His love for us all."
"During the training, I know God was taking me "Deeper Still" personally."
Someone needs
you

to bring the good news of God's healing and lasting freedom to their abortion wounded heart.

We want to equip you with everything you need to help them.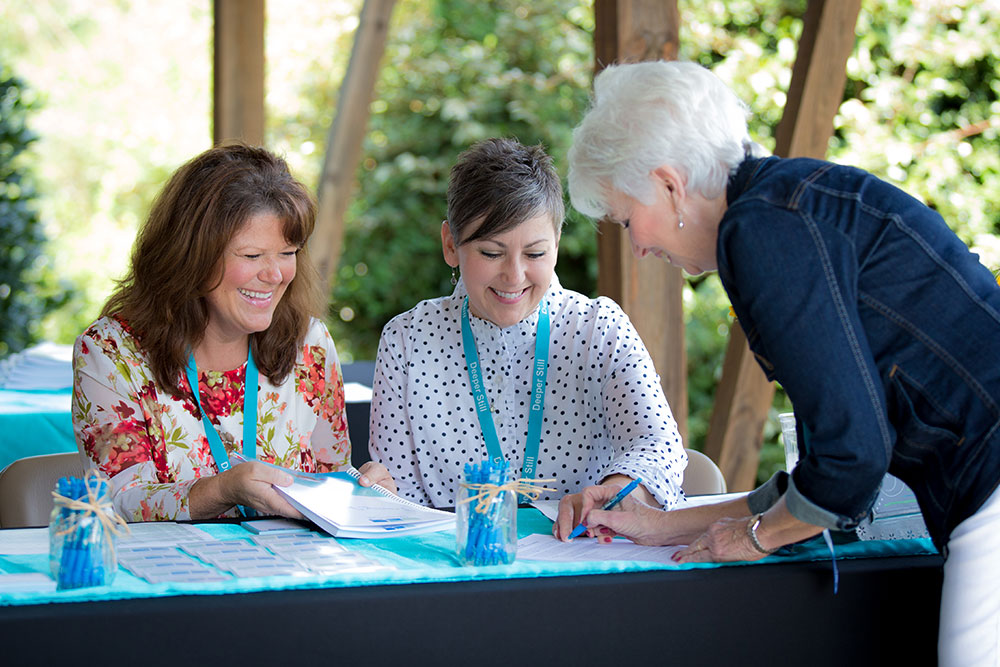 Register for the training
Registration opens January 1, 2023.
If you would like more information before then, please email us.
Get the tools you need
Our Father wants to set men and women free. You can be a part of helping someone receive all that He has to offer through this weekend retreat.
Help others experience healing and lasting freedom
We are here to equip you with everything needed to serve on a Deeper Still team or bring a Deeper Still Chapter to your region.